EL CHALK ART COMPETITION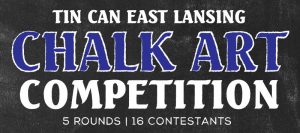 Come one, come all to the Tin Can East Lansing Chalk Art Competition! 16 contestants will have their chance to win up to $200 worth of prizes! May the best ever Chalk Artist win! To participate you must be signed up no later than 7:00pm the night of each round. First come first server for all contestants and only the first 4 to register can compete in each round.
Event Dates:
• Round 1: February 6th
• Round 2: February 13th
• Round 3: February 20th
• Round 4: February 27th
• Finals: March 13th
Prizes:
• $10 Tin Can Gift Card to each contestant in each round. (Must be used the night of the competition.)
• $25 Prize for the winner of each round.
• $100 Prize for the winner of the finals.
Rules To Live By:
• First 4 Rounds must be MSU/Spartan themed.
• Final round is a free-draw, so get creative!
• Enter the competition by registering at the Tin Can East Lansing.
• Each contestant has 30 minutes to complete their Chalk Art.
• Voting will take place at the competition and on social media, so LIKE the Tin Can East Lansing Facebook page and vote!
Location:
Tin Can East Lansing
313 E. Grand River Ave.
East Lansing, MI 48823
Have any questions? Give us a call at (517) 721-1880.